Uniform
The school endeavours to ensure that our uniform is as gender neutral as possible.
The uniform is as follows:
Green sweatshirt, jumper or cardigan (with or without the school logo)
White polo shirt
Grey or black trousers
Grey or black skirt
In the summer, a green and white checked summer dress may be worn
In the summer, black/grey shorts may be worn
Black, sensible shoes – not trainers
Grey, black or white socks
Grey or black tights
A school bag (this may be a school book bag or rucksack with the logo on but not required)
A suitable coat for the season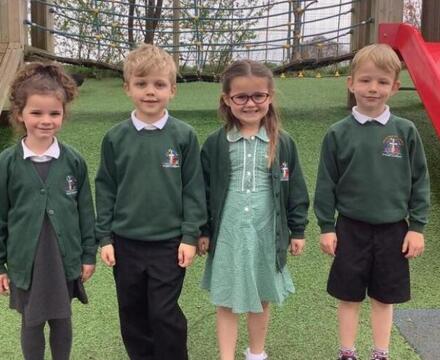 Trainers, open-toed sandals, and large, thick boots are not considered suitable footwear for school. High heels are not permitted. Sensible, plain black shoes must be worn by both boys and girls.
Black jeans and leggings are not permitted in day-to-day school uniform.
All items of clothing and footwear must be labelled with the pupils' name.
All of our uniform can be purchased from high street retailers, including supermarkets. We do not require pupils to have uniform with logos on. If parents wish to purchase items that include logos (cardigans/jumpers/book bags/coats), these can be purchased from:
Trutex, Unit 3, Sugarmill Retail Park, Billacombe Rd, Plymouth PL9 7HT
01752 491353plymouth@trutex.com
Our PTA holds a small stock of second hand uniform. This is arranged for sale at school a few times a year, for a low cost. In addition, requests to view/purchase second hand uniform can be made at any time via the school office/Headteacher/Deputy Headteacher. The school is also able to source uniform for families who are suffering from particular hardship upon request.
Schools are now required to have a School Uniform Policy. See below: